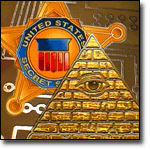 NOTE: Live streaming at http://www.ustream.tv/channel/effaustin!
March 9, 2010. 7pm-9pm, Independence Brewing.
Austin was a hotbed of pioneering Internet activity in the early 1990s, and one event that put us on the Internet map was the March 1, 1990 Secret Service raid at Steve Jackson Games, an Austin company that produced role playing games with science fiction themes. All the company's computers were confiscated, and as a result Steve Jackson sued the U.S. Secret Service, and won. The raid and court case made Steve a focus of the nascent cyber liberties movement – it was the first major case for the national Electronic Frontier Foundation, and subject of a bestselling book by Bruce Sterling, called _Hacker Crackdown_.
Why did the Secret Service raid Steve Jackson Games? Why did Steve retaliate with a law suit, and how did he win a case against the U.S. government? On this 20th anniversary of the raid, EFF-Austin invites you to gather at Independence Brewing in Austin to get the answers. We'll have a rousing panel discussion of the case, and its place in history, featuring Steve Jackson, Bruce Sterling, and attorney Pete Kennedy. You can also sample locally-brewed Independence beer!
Please consider making a donation to EFF-Austin when you attend (or via the Paypal link on this site).
Sponsored by EFF-Austin and Plutopia Productions. This event is FREE (as in beer), but we strongly encourage donations to EFF-Austin.