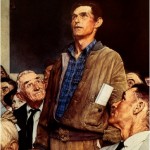 "Freedom of Speech" by Norman Rockwell (1943)
One of the most important moments in a piece of legislation's lifecycle is its public hearing. This is the opportunity for a bill to be formally considered by its assigned committee, and a decision made as to whether the bill will be reported out of committee to the full legislative body favorably, unfavorably, or deferred for additional consideration.
As defined in "Texas House Rules: 83rd Legislature, 2013", meetings of committees may include:
a public hearing where testimony is to be heard, and where official action may be taken, on bills, resolutions, or other matters;
After a bill is filed and referred to a particular committee, the committee Chair, in consultation with other committee members and the bill author, decides when to schedule the bill's public hearing. As committees must consider many bills during each legislative session, Texas House committees generally hold public hearings on a weekly basis.
Public Hearings are PUBLIC
As the name indicates, public hearings are open to the public. Texas House Rule 4, Section 12 states:
All meetings of a committee or subcommittee, including a calendars committee, shall be open to other members, the press, and the public unless specifically provided otherwise by resolution adopted by the house.
This means you can show up to observe and report on the proceedings of your elected officials. There is an open wireless network available throughout the Capitol Complex called Public-Capitol should you want to broadcast your observations:
http://www.legis.state.tx.us/resources/wireless.aspx
You Can Be a Witness
Citizenship grants you the right to participate more actively in committee public hearings by becoming a witness. You and organizations you are empowered to represent have three options for participating and making your voice heard in relation to any particular bill heard by a committee:
Show up and register your position as "For", "Against", or "Neutral" in relation to a bill
Show up, register your position, and file written comments which are attached to the meeting minutes
Show up, register your position, and testify before the committee
Showing Up and Registering Your Position
Each of these options for participating in committee public hearings requires your physical presence, even if you are just registering your position. Traditionally, registration has entailed filling out a paper card (stacked near the entrance to the committee public hearing room) and delivering the card to the committee clerk (typically seated in the front of the room below the committee members). Recently, the Legislature has taken steps to allegedly make this process a little easier by installing iPad kiosks in the Capitol Complex to enable witness registration. You can also use your own iPad to connect to the House Witness Registration system from within the Capitol Complex, and register without having to locate a kiosk.
Here are the details on registering as a witness for a House Committee hearing:
https://www.mytxlegis.legis.state.tx.us/HWRSPublic/About.aspx
You can setup a witness profile in advance. This will save you time so you don't need to enter your personal information more than once. Here is a video on using the House Witness Registration system:
https://www.mytxlegis.legis.state.tx.us/HWRSPublic/Video/HouseWitnessReg.mp4
The video shows that you can register your position as "For" a bill, "Against" it, or "Neutral". The "Neutral" position can be important if you are testifying on behalf of an organization that cannot perform political lobbying, as you can still present information to inform committee members. Texas House Rule 4, Section 10's Explanatory Notes state:
Many times, persons representing an association or executive branch agency will appear before a committee to testify "on" a particular measure. Such persons often refer to themselves as "resource witnesses" because they are not taking a position for or against the measure.
Filing Written Comments
In addition to registering your or your organization's position on a bill, you may also file written comments. Texas House Rule 4, Section 20(c) states:
Sworn statements submitted in paper format for those persons recognized by the chair to address the committee shall accompany the copy of the minutes of the meeting filed with the committee coordinator.
Comments submitted along with your sworn statement become part of your statement. Keep your comments concise, generally no more than a paragraph or a page. Make copies for each of the committee members and the committee clerk (and for others, including the press, who might be amenable to learning about your position). Once you've filled out the witness registration card, hand the committee clerk your comments along with your sworn statement on paper. Please note the emphasis on paper here: you cannot submit comments electronically which leaves an open question as to whether one can use the online House Witness Registration system when intending to file written comments.
Testifying
You can also register to provide spoken testimony at a committee public hearing. When a bill is presented before the committee, witnesses who have asked to speak are called (generally in the order in which they registered) to present their testimony for three minutes each (longer depending on the mood of the committee). Committee members then have an opportunity to ask you questions. Providing spoken testimony can be powerful – or it can unintentionally undermine your efforts. Jon Roland has put together a good summary of points to consider when forming and delivering testimony.
http://obitur-dictum.blogspot.com/2012/08/testifying-to-texas-legislature.html
Remote and Video Testimony
In certain circumstances, witnesses do NOT have to be physically present at a public hearing to provide testimony. Rule 4, Section 20(g) states:
The chair may recognize a witness who has been invited by the committee to attend the meeting but is not present in the same physical location as the committee to testify before the committee through an Internet or other videoconferencing system…
In this circumstance, it sounds like the committee itself would need to invite a remote witness.
Rule 4, Section 20A provides for "Video Testimony":
The committee coordinator shall…establish procedures to permit a person to submit testimony relating to measures under consideration by a committee to the committee in the form of an online video. The procedures established must ensure that testimony submitted in the form of a video is available to the public on the Internet. Online video testimony submitted to the committee may not exceed three minutes.
Recordings of Public Hearings
House Video/Audio Services are tasked with providing live web-casts and broadcasts of committee and subcommittee meetings, but cannot do so for all public hearings. So you may be able to watch committee public hearings online. Here is the House Weekly Broadcast Schedule:
http://www.house.state.tx.us/video-audio/broadcast-schedule/
You can find the House video archive here:
http://www.house.state.tx.us/video-audio/
Furthermore, audio recordings are generated at every public hearing and are subsequently available for review with a little wrangling:
All House committee clerks are responsible for recording audio of every public hearing. You may listen to these recordings in CD or cassette format in the House Communications, Video/Audio Services office, located in the John H. Reagan Building at 105 West 15th Street, Room 330, Austin, TX. (Just North of the State Capitol) Copies of the audio recordings may be purchased for a fee. For more information, call (512) 463-0920. You may send your signed Open Records Request letter via fax at (512) 463-5729 or mail to the Texas House of Representatives, c/o Video/Audio Services, P. O. Box 2910, Austin, TX 78701.
Make Your Voice Heard
Your options for participating in public hearings of committees of the Texas House of Representatives before, during, and after the fact are substantial. Prepare in advance and make sure you know these important pieces of information before you arrive at the Capitol Complex:
The bill number you are interested in
Which committee the bill is referred to
The date, time and location of the public hearing
Good luck! Make your perspectives and opinions known.