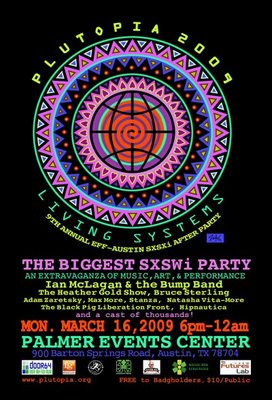 March 1, 2009 (Austin, TX) – As SXSWi has grown in popularity, attendance has swelled and corporate-sponsored parties have popped up like mushrooms on cow patties. The typical party affords participants the opportunity to stand in very long lines for warm beer, chips and salsa and a chance to schmooze with fellow attendees. Plutopia offers a refreshing alternative to this formula with an evening of cutting-edge technology, art, music, and performance on Monday, March 16, 2009 from 6 p.m. to midnight at Palmer Events Center in Austin.
Founded by Derek Woodgate of The Futures Lab and Jon Lebkowsky of Social Web Strategies and, formerly, FringeWare, "Plutopia is a futurist think tank that produces events," says event producer Maggie Duval. "The word 'plutopia' came out last year as we were thinking about pluralist utopias – bright green alternatives to apocalyptic and dystopian visions. We didn't want just one idea; we realized there are an infinite number of possible futures and outcomes, and they might all be realized, depending who and where you are. This event is designed to explore those potential scenarios on a local to global scale." And for those who are just looking for a great party, she adds, "this all comes with lots of truly glorious music and many opportunities for social engagement."
The theme of this year's event is Living Systems. Participating artists were invited to explore what constitutes a living system, resulting in a convergence of local, national and international creative pioneers from the fields of futurism, technology, sustainability, media and art.
"Our events are about putting things together in new and different ways that, combinations and associations you wouldn't normally f ind," said Duval. "There will be tons of things to play with and interact with."
Musical headliner will be Ian McLagan & the Bump Band. Ian McLagan is a living system unto himself. "Mac's 40-year-career is a node on huge spiderweb network where if you tug on any thread, or musician in the network, it goes back to Mac," said Duval. "He has played with everybody." The event will also feature 15 other bands, including Hipnautica, Black Pig Liberation Front, Exstus, Tolera Storm, DJ John Gomi and Beatimprint.
Representing the sustainability community will be Urban Roots, an Austin group that teaches urban youth how to grow their own food and learn entrepreneurial skills, Austin Green Art, which will have a mobile farm, and Edible Austin, which will have farmers on hand to answer questions.
Plutopia will be showcasing a diverse group of performers and speakers. The Heather Gold Show will be returning to Plutopia for the second time with Something From Nothing,exploring "how we discover the value hidden within ourselves and around us and turn 'nothing' into something." Futurist author Bruce Sterling will talk about his new project, The User's Guide to Imaginary Gadgets. Transhumanist philosopher Natasha Vita-More will be doing a presentation on The Media Arts of Human Enhancement.
Scattered throughout Palmer Event Center's main exhibition hall and atrium will be 70 art installations and exhibitions with artists from Austin, San Francisco, New York, Britain and Thailand. Notable artists include Stanza, Max More, Allucquere Rosanne Stone, Christian Kerrigan, Adam Zaretsky, and Sarawut Chutiwongpeti.
Plutopia is free to SXSW badge holders, and is open to the general public. Tickets are $10 and can be purchased at plutopia.eventbrite.com. A portion of the evening's proceeds will benefit EFF-Austin and Urban Roots.
Plutopia's 2009 Sponsors include The Futures Lab, SXSW, Laughing Squid, FG Squared, Door64, Social Web Strategies and Texas Rollergirls.
For more information, see www.plutopia .org. For media inquiries and artist interviews, please contact Jon Lebkowsky, jonl at plutopia.org.