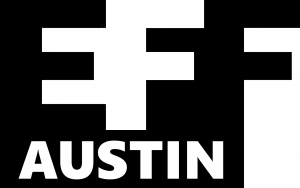 Date: Monday, November 16, 2015
Time: 7PM
Location: Capital Factory
Our speaker this month will be radio personality Jimmy Preston, host of 100 Proof Radio on KTSW 89.9FM and producer at Double Punch Kick Productions.
http://ktsw.txstate.edu/programming/specialtyshows.html
http://www.doublepunchkick.com/bios.php
Jimmy is originally from Northern Virginia, and was a willing participant in the Tech Boom and crash at the turn of the century, and after leaving the tech sector went on to contribute to the Real Estate boom and bust in 2008. After moving to Austin 5 years ago, he began purposing a career in media production, and will complete his degree at Texas State University in May 2016. His interest in social justice issues, and media law and ethics have led him to follow many groups in the Austin area as they work to bring about change for the better. Jimmy is currently working with the Second Chance Democrats to bring Fair Chance Hiring to Austin, and the initiative just passed committee and will go to the full council in February 2016.
Jimmy will be speaking to us about Austin Police Department partnering with local company Snap Trends to monitor social media aggregate data. Snap Trends says they created this software "to serve public safety organization [sic] and national intelligence agencies in the United States." They state that their technology "builds a clear view of social conversations when and where they occur, the influencers driving them, and why."
http://www.austinchronicle.com/news/2015-09-04/apd-tracks-social-media/